Let's find out what exactly B2B CRM is, how it works and how to create your CRM strategy.
The main idea of a sales cycle is to guide customers through content that increases awareness of your brand and converts visitors into leads.
And end the cycle with a sale.
Sounds easy, but it's not an easy task in the B2B sector. Remember that you're dealing with companies like your customers. Companies that have a few points of view and quite a few requirements at every stage.
No wonder it's a bit tricky to figure out what they need at a time.
That's why companies use CRM (customer relationship management) tools and strategies.
What is CRM?
In B2B business, CRM can be any of these things:
strategy
process
software
But at its core, CRM is a way to understand and meet the needs of your customers at every stage of the sales cycle.
B2B CRM software is a great asset in this regard. These tools collect data from customer communication channels – websites, chats, calls, emails – and analyze it.
The information that B2B CRMs collect includes:
quotes
inquiries
sales reports
notices of issues clients faced
All these details are kept in a database (a cloud one, usually), and the company's staff can access them anytime. CRM system allows Sales and Marketing deputies to track leads and see all needed details about them. This way, companies figure out how and when to motivate clients to move to the next sales stage.
What are the benefits of B2B CRM?
Without a doubt, it is the sales teams that benefits most from CRM software. But marketing and CS departments also benefit from it.
Let's take a look at all the advantages that CRM brings to the B2B environment.
Improved contact management
Excel or Google spreadsheets are fine when you're just launching your business. But as you grow, so do your needs.
And no business can keep the lights on without managing its customer base.
With CRM software, staff can easily upload customer info into the database, and set priorities and reminders about calls or meetings with customers.
The software stores all the information and the company can pull it out and use it at any time.
Better customer experience
Let's face it: it's not just the product that sells.
No matter how good your products or services are, the customer relationship plays an important role in making the sale, and it needs to be nurtured from the start.
Because the team has access to customer info in the CRM system at all times, they can apply a personalized approach at all points.
B2B sales process take up to a few months or a whole year (or a lot of years, if you're lucky), and a personalized approach makes all the difference.
Real-time quotations made easy
By having all the details at hand, the sales team sends accurate quotes to customers on time.
The CRM updates transaction, inventory, and pricing information as soon as it changes. This reduces the chance of sending an incorrect quote to customers, the frustration, and the consequences.
Targeted marketing campaigns
It's hard enough to launch one advertising campaign, let alone a few. What if you have a dozen products to promote?
With CRM software, companies run highly personalized and automated marketing campaigns. Staff quickly identify potential customers and focus on communicating with them.
In-depth analysis and detailed reports
So you've launched a promotional campaign. Now, how do you check your results? What's more, if there are a dozen advertising campaigns, how do you find out which one provides an ROI and which one doesn't?
The CRM system gives you a hand here: thanks to the analysis and reporting function, the company finds out which actions have resulted in ROI and prepares the sales process forecast.
Usually, a CRM system comes with a dashboard that displays all the necessary metrics, and staff can generate reports with the results of advertising campaigns in no time.
Let's sum it all up. CRM software helps B2B companies better understand their audiences, prioritize business requirements, and organize data warehousing.
No wonder well-known B2B companies are interested in CRM software development.
B2B CRM Strategies
Sometimes relationship with the client management can be difficult.
That's why I list these five time-tested tips on customer relationship management, and how CRM software helps with it.
1) Know your customers' needs
Every company, whether B2B or B2C, should know all about their customers' pains, struggles, and needs.
How can you find out? By digging into the data in your CRM warehouses.
Here's an example. The sales team uses the software to store details about customers and their interactions with the company. So a sales rep can ask customers what they've been looking for and why they've chosen this company. And add the information to the CRM.
By having all this information in one place, it won't be difficult to find out what customers need.
2) Focus entirely on the companies
Once again: working in the B2B sector means working with companies, not individuals. Therefore, you may be interested in getting more corporate customers involved.
Just an idea: give in-office training explaining the features of your product and showing how to use it for maximum results.
The more the company tells how great and necessary the product is, the more long-term customers you will get.
3) Collect feedback
Customers must know the value of your product, or no one will buy it. The best way to make your product even more valuable is to ask for customer feedback and improve it according to their preferences.
You can start by asking a simple open-ended question, "What services could be improved, and how?" or "What additional services would you like to see?".
Take as much time as you need to check their answers, looking for the most common issues or suggestions.
By giving customers a chance to share their opinions, companies gather valuable insights that help improve overall business processes.
4) Create the right content
B2B customers often rely on content when making informed buying decisions. Customers want salespeople to target them with sales process emails, prepared detailed case studies, and informative articles.
5) Monitor your level of success
One last thing, don't forget to track your success.
Check how many customers complete the onboarding process and find out how engaged they are on an ongoing basis.
Finally, look at how often they use your product: the more often they do it, the more valuable it is to them. Most B2B CRM suites allow you to monitor these metrics for individual users, so there should be no problems with this.
Business to Business Customer Relationships Management software: the best use cases
Finally, let's look at some real B2B CRM use cases, from Unilever, British Airways and Cisco.
Cisco
Cisco is an American networking hardware and software company with annual revenues of $51.9 billion and 75,900 employees.
All they wanted was to increase workforce productivity, enable real-time collaboration and be responsive within the company.
WebEx software proved to be the most appropriate solution for this.
After adoption, the sales team found 20% more time to work on strategic tasks. The number of external interactions increased by 50%, and the average working time was reduced by 10%.
Most importantly, customers were fully satisfied with the service provided, rating it 4.88 out of 5.
Unilever
Unilever has more than 400 and surely knows the importance of having customer info at hand. That's why they decided to implement CRM software to launch data collection campaigns.
Unilever turned to the Traction Digital platform. This software helps to launch and run multichannel campaigns, collect feedback and analyze it.
This partnership helps to maintain Unilever's life plan: drive more growth, less waste, and less risk.
British Airways
Service is important if you have more than 45 million customers a year. Plus, providing top-notch service is a big differentiator when you're up against the tough competition.
That's why British Airways applied Teradata CRM to automate ongoing campaigns, find out what customers need and how to make it happen.
With CRM software, BA staff manage emails, calls, and web channels all within one system.
As you can see, B2B CRM software brings tons of benefits to companies, making them know their audience better and serve them better.
Staff work more productively; sales process and marketing activities have clearly defined stages and are no longer based on the "guesswork" system.
All this leads to building a better relationship with customers and gaining their trust. And that is the key to success for B2B companies.
What is the difference between Business to Business Customer Relationship Management and B2C CRM?
Business needs and requirements drive a B2C organization. They also have a significant difference from those of selling to the individual customer. Since the salesperson must first understand what exactly they are buying, it requires considerable skills on the part of management.
It differs from the B2B market in several ways. Those buyers will have fewer buyers. Therefore, each person becomes valuable. Consumers are fearless of emotion; purchase decisions can sometimes take months. However, prices play a less prominent role because workers buying goods and services rarely pay out of their pocket.
What are the 3 types of CRM?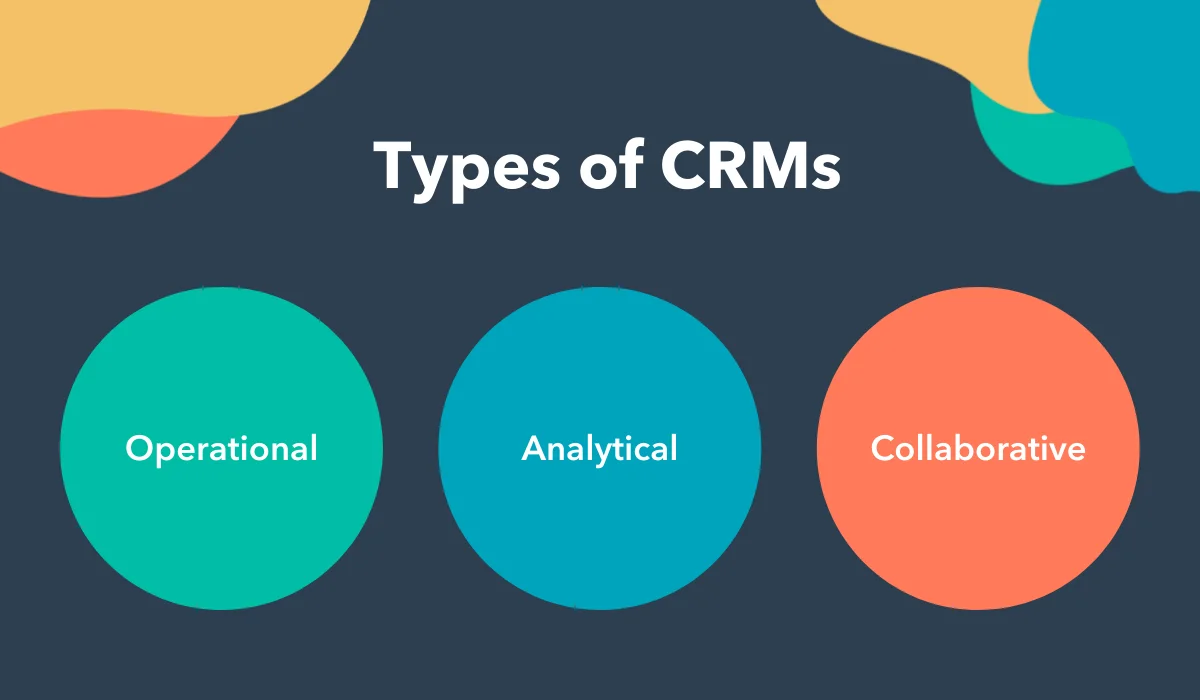 While all of these advantages apply at some level to almost any CRM, customer relationship management includes a large category of CS, marketing, and sales tools. Different CRM products and methodologies vary in features and approach and can be divided into three main categories.
1. Collaborative B2B CRM systems
One of the main goals of collaborative CRM systems is to break down silos. Often, the marketing team, sales reps, and customer service agents are in different departments that feel disconnected. And in the case of larger organizations, each of those departments is further separated based on factors such as geographic location, channels served, product focus, or specialties. But to deliver a seamless customer experience across the entire customer journey, you need a way to share information with the organization in real-time.
Collaborative B2B CRM ensures that all teams have access to the same up-to-date customer info, regardless of their department or channel. Not only does customer service have all the information that marketing and sales teams collect when working with a prospect, but agents in a call center have up-to-date data on customer interactions through email or messaging channels.
Collaborative B2B CRM treats each interaction as part of a larger, integrated conversation between the brand and the customer. That integration across departments and channels saves customers from the dreaded experience of repeating themselves each time they speak to a new contact. Each employee they interact with can quickly and easily pull up a record of all previous interactions with the customer to view and understand all relevant details.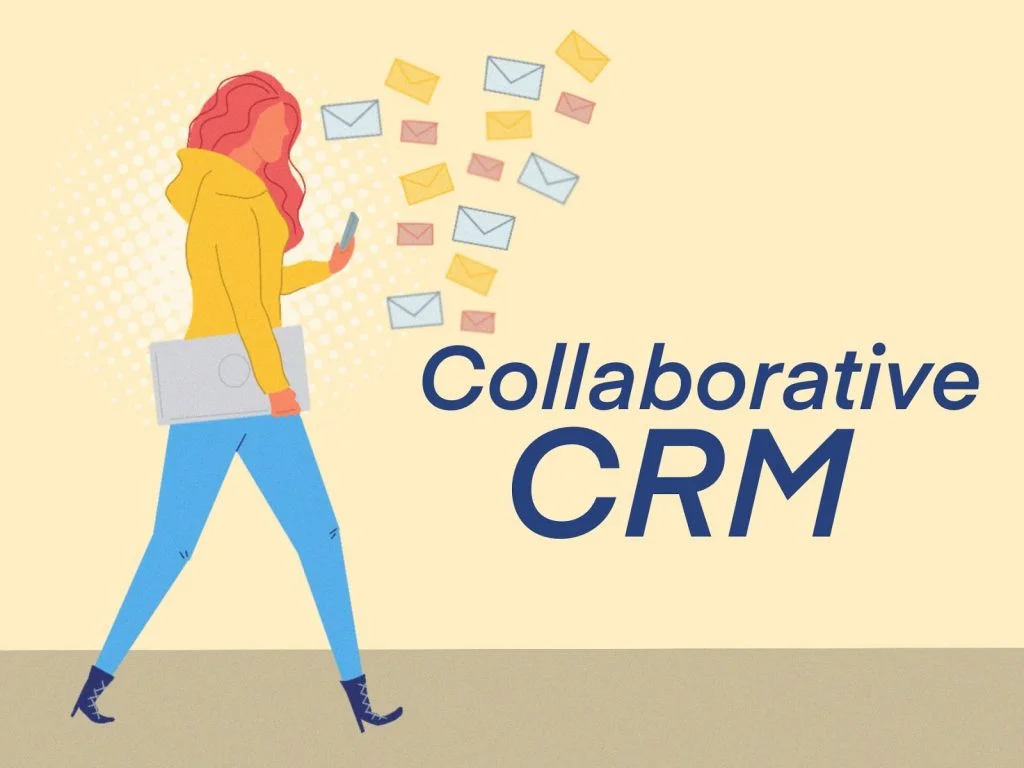 2. Operational B2B CRM systems
Operational CRMs help streamline a company's relationship with the client processes. They provide tools to visualize better and more efficiently manage the entire customer journey, even when it includes many touch points. This starts with the first interactions with your company's website, through the lead management process as they move through the sales pipeline, and continues with their behaviors once they have become customers.
Operational B2B CRM systems typically offer automation features. Marketing automation, sales automation, and service automation offload some of the work your employees would otherwise do. This allows them to spend their time on the more creative and personal aspects of their work, which need a human touch. And it makes it easier for growing companies to continue providing top-notch service at scale.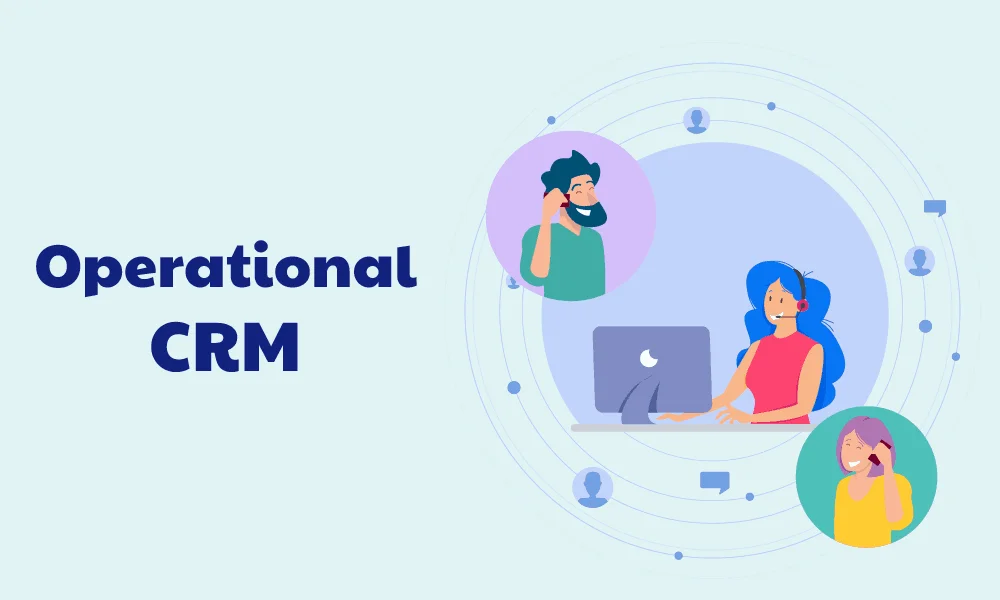 3. Analytical B2B CRM systems
Analytical B2B CRM is primarily focused on helping to analyze customer data to obtain necessary information. Digital tools and platforms now make collecting large amounts of data accessible. But the data analysis-the step needed to turn that data into something useful for your business is a difficult feat. It's estimated that more than half of the data collected by companies is never used.
Your customer data is too valuable for that. An analytics B2B CRM provides features that help you use your data to see customer behavior trends. With that information, you can better understand which steps lead most successfully to sales, which increase customer retention, and the most common customer problems.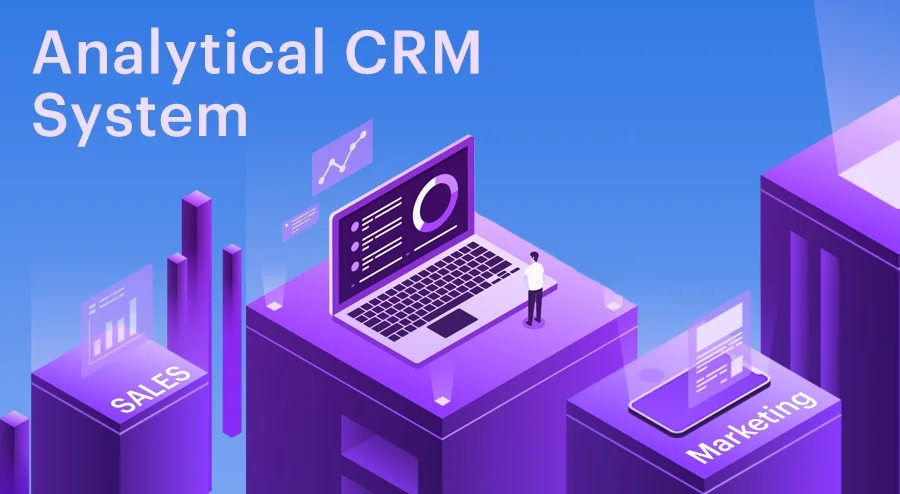 How to choose the best B2B CRM for your business
If you're sure your company needs a B2B CRM but are still in the research phase, understanding the differences between the three types of B2B CRM systems available is an essential part of the process.
While there is a fair amount of overlap between the three categories of CRM, each tends to focus on particular functions and features.
How Collaborative B2B CRM Work
In the case of collaborative CRMs, the primary functionality is twofold:
Getting up-to-date information to everyone through the same platform across all departments and locations.
Ensure that people can easily find the information they need when they need it.
Compared to the other types of B2B CRM, collaborative CRMs tend to be more oriented toward customer retention and satisfaction than making sales. However, for sales, marketing, and customer service teams, collaborative CRMs answer the age-old challenge of data silos.
The insights that sales and marketing gain about prospects will only be of value to the customer experience team if the company finds a way to facilitate the dissemination of that information. And the same goes for obtaining customer service information for sales and marketing.
With collaborative CRMs, there are a few key features:
Interaction management. A collaborative B2B CRM makes it easy to track all customer or prospect interactions with your company, regardless of the channel. Product information is updated whether the customer has been contacted by phone, email, social media, messaging apps, or even through an in-person meeting with someone from the company. Agents can record what the interaction was about and how it was resolved and add any essential details that someone might need to know for future interactions with the customer.
Channel management. Customers now expect brands to be available on multiple channels. It's essential to understand which channels your customers prefer and figure out the best way to meet them where they are. Collaborative CRMs help track your customers' channels for different types of contact to ensure you are available when they need you and where they want you.
Document management. Some collaborative CRMs also help companies consolidate where they store important customer documents. If employees need to access a contract or a proposal from a customer in the course of helping them, this feature can be handy.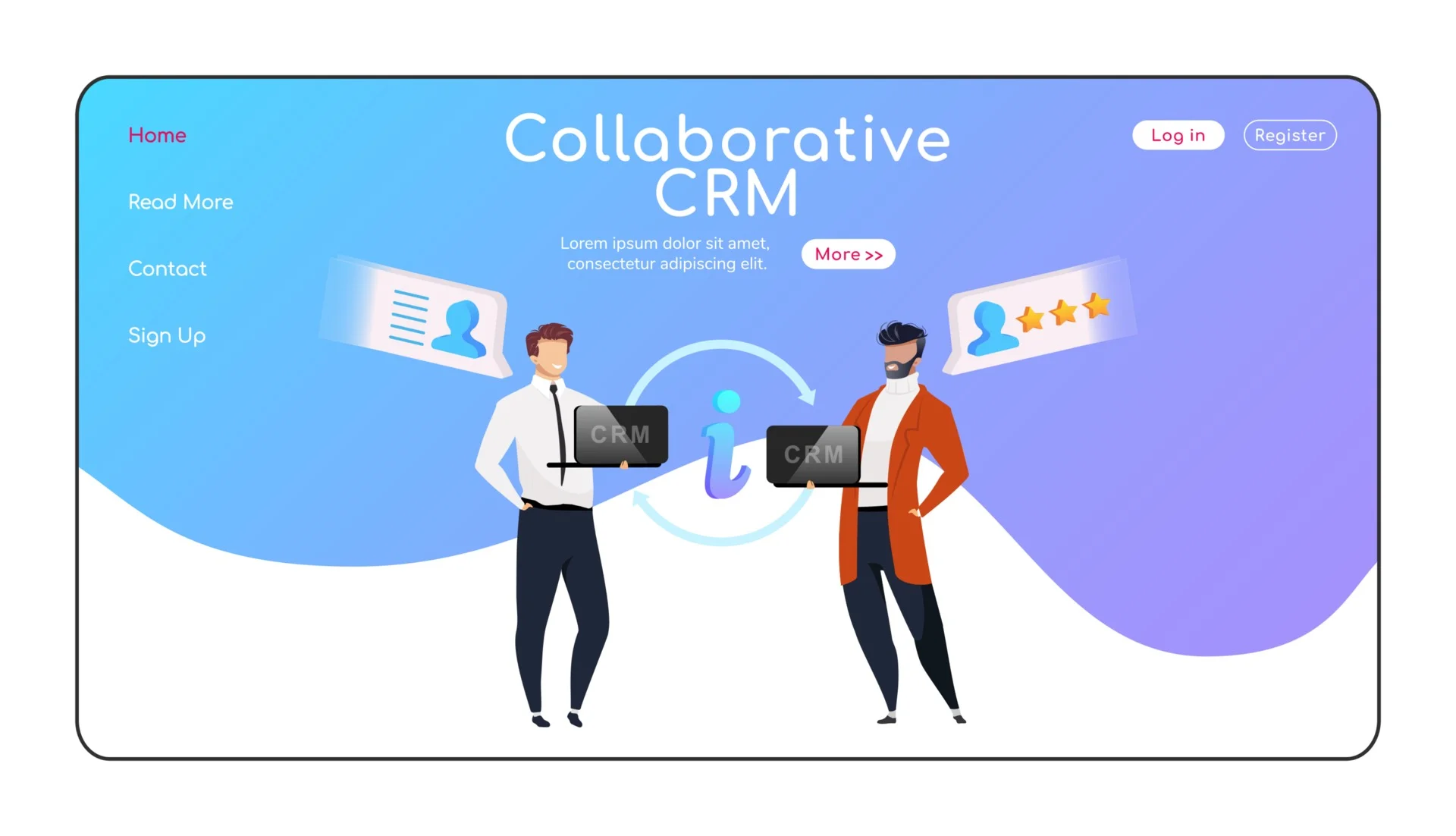 How operational B2B CRM work
Operational CRMs typically include the usual features of collaborative CRMs but add features that focus more on tracking, managing, and improving the entire customer lifecycle. While collaborative CRMs focus a bit more on keeping customers happy and coming back, operational CRMs are equally concerned with how they first learn about your brand and all the steps that lead to becoming a customer.
And operational CRMs are where automation features start to come into play. To bring greater efficiency to all processes related to customer relationship management, operational CRMs often include sales automation, marketing automation, and service automation capabilities.
Marketing automation can save time for the marketing teams by creating email campaigns that trigger relevant emails based on specific activities performed by the customer rather than requiring manual work. Or similarly, a marketing automation tool can tailor content recommendations on your company's website based on where the prospect is in their journey. This means a more personalized and relevant experience for the customer while putting less work into your sales and marketing teams.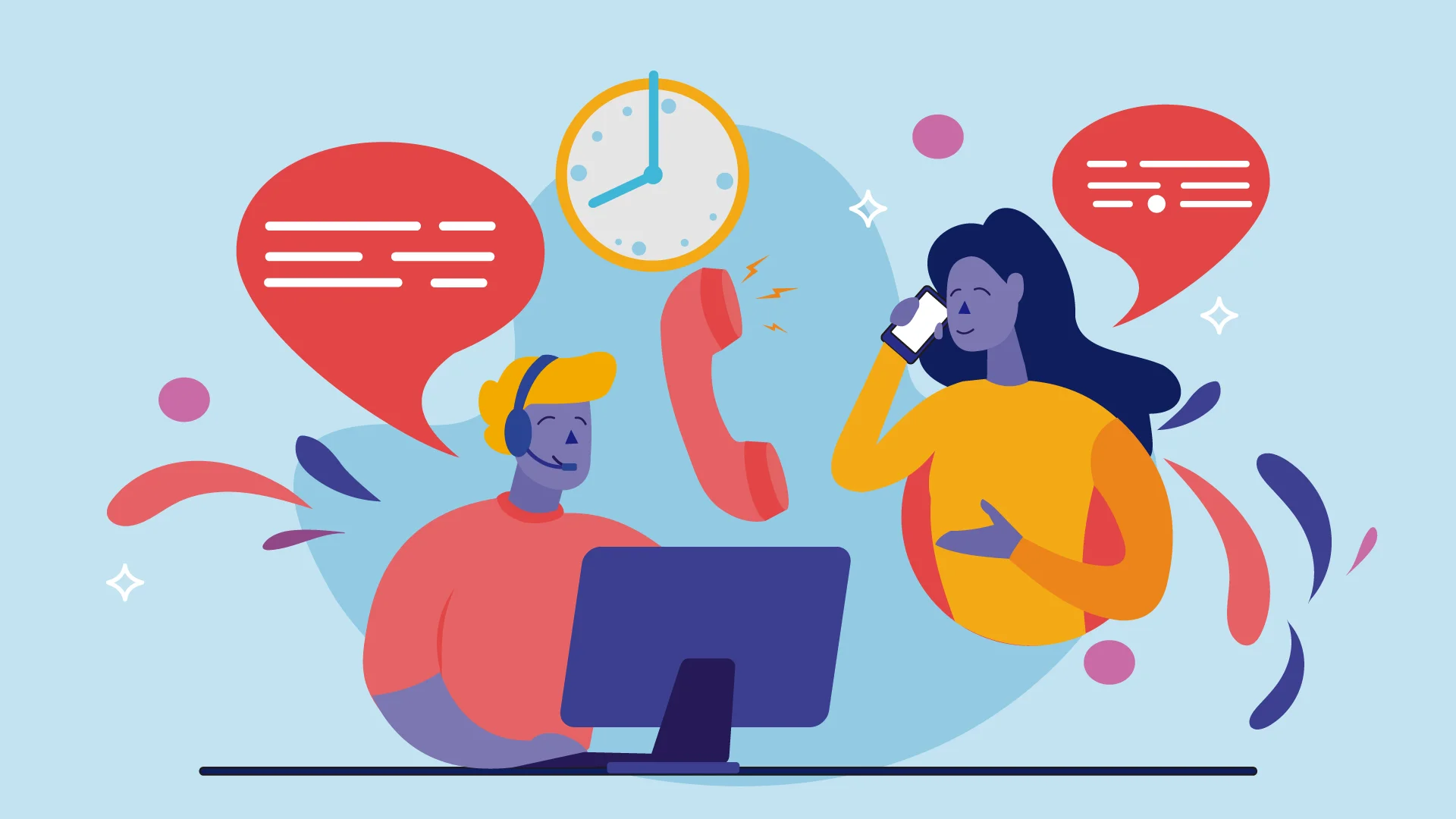 Sales automation features can simplify the lead management process by automating the lead scoring process, making it easier to identify which leads to prioritize. Operational CRMs can also automatically determine the best tasks to assign to each sales rep based on priority level and send automated alerts about the specific steps that need to be taken to move a lead through the sales process.
And service automation can take all the information the operational CRM has about a customer's situation and use it to determine the essential details an agent needs to help a customer quickly and efficiently. You can also automate sending customer surveys to measure customer satisfaction and help you find out how your team is doing.
How analytical CRMs work
While the other two types of CRMs are typically used regularly by employees who interact with prospects and customers daily, analytical CRMs work best for high-level strategizing. Data analytics is how you take all the customer information you've collected over time and start answering questions.
Analytic CRMs offer reporting capabilities that help you understand:
Which specific marketing activities generate the most leads?
Which types of leads convert most often to sales
What kinds of sales actions lead to a purchase
Which types of customers have the highest lifetime value
The problems that customers most often contact customer service about
The most frequent customer complaints
What features and resources do customers use, and which ones do they like best
How effectively your support team resolves customer issues
How quickly do your agents achieve resolution
The answers to these questions are essential to identify weaknesses in your current approach and determine what changes need to be made to get better results. Analytical CRMs are helpful in this step because they use data mining, a technological process for analyzing large data sets and finding trends. This is something that technology is much better at than humans, especially as the number of data increases.
Do you need all three CRMs?
The type of CRM you need – or whether you should invest in all three – depends on your company's particular needs.
If your company is new and doesn't yet have a lot of customer info, an analytical CRM might be overkill. The need for a collaborative CRM comes into play when many departments and different company locations need an efficient way to be on the same page. And an operational CRM is most important for companies looking to improve processes related to the entire customer lifecycle and those that want to employ automation to introduce efficiencies.
And many of the most popular CRM systems on the market will offer some overlap in the functions associated with the different types.